Cardio Pilates
This class is taught by: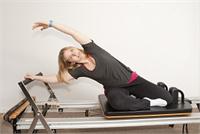 Pilates Instructor & Studio Owner
A former professional dancer and choreographer, Pippa trained at the Laban Centre in Movement and Dance from 1992 to 1996. After graduating with a BA in Dance Theatre she then performed for several years in the art of modern dance, jazz and street dancing whilst also training clients in fitness. It was fitness training that led Pippa to a deeper understanding of the body-mind connection that eventually led her to Pilates.
Pippa became certified in fitness by the YMCA and ACSM (American College of Sports Medicine) and then moved onto her formal training in Pilates becoming certified as a Stott Pilates Instructor in 2006. Pippa has been training on a one-to-one basis in both Matwork and Stott equipment based Pilates to a large and varied clientele in the Southeast London area before opening One One One Pilates in October 2010.
This class will challenge your Pilates training while giving you a cardio workout. The class will use various pieces of equipment including the Halo.
If you are new to the Studio it is necessary to complete at least three Essential Matwork classes or two Private Foundation sessions before joining this class, although due to its faster pace is best suited to those with some experience of Pilates.
Upcoming classes:
Sign Up

Tue

22 Jan 9:30 am - 10:30 am

with

Pippa

Golden




Sign Up

Sat

26 Jan 10:00 am - 11:00 am

with

Pippa

Golden




Sign Up

Tue

29 Jan 9:30 am - 10:30 am

with

Pippa

Golden




Sign Up

Sat

02 Feb 10:00 am - 11:00 am

with

Pippa

Golden




Sign Up

Tue

05 Feb 9:30 am - 10:30 am

with

Pippa

Golden




Sign Up

Sat

09 Feb 10:00 am - 11:00 am

with

Pippa

Golden




Sign Up

Tue

12 Feb 9:30 am - 10:30 am

with

Pippa

Golden




Sign Up

Sat

16 Feb 10:00 am - 11:00 am

with

Pippa

Golden




Sign Up

Tue

19 Feb 9:30 am - 10:30 am

with

Pippa

Golden




Sat

23 Feb 10:00 am - 11:00 am

with

Pippa

Golden




Tue

26 Feb 9:30 am - 10:30 am

with

Pippa

Golden




Sat

02 Mar 10:00 am - 11:00 am

with

Pippa

Golden




Tue

05 Mar 9:30 am - 10:30 am

with

Pippa

Golden




Sat

09 Mar 10:00 am - 11:00 am

with

Pippa

Golden




Tue

12 Mar 9:30 am - 10:30 am

with

Pippa

Golden




Sat

16 Mar 10:00 am - 11:00 am

with

Pippa

Golden




Tue

19 Mar 9:30 am - 10:30 am

with

Pippa

Golden




Sat

23 Mar 10:00 am - 11:00 am

with

Pippa

Golden




Tue

26 Mar 9:30 am - 10:30 am

with

Pippa

Golden




Sat

30 Mar 10:00 am - 11:00 am

with

Pippa

Golden