Essential Reformer
This class is taught by: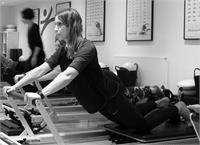 Pilates Instructor
Sam is a fully qualified Stott Pilates matwork and reformer instructor. She studied at the YMCA in London, and is also qualified in Pre and Post-natal Pilates with Body Control. Sam is currently studying for her full certification with STOTT Pilates.
Sam believes that teaching clients to really understand the point of the exercises combined with increasing their awareness of how the body works delivers the best results. She is passionate about teaching and loves it when clients feel the benefits - particularly when clients claim to find muscles they never knew they had!
Sam strongly believes in the multifaceted benefits of pilates. She believes it keeps us strong and flexible but also has hugely positive effects relaxing the mind and helping us engage with our body and how we move. With focused pilates practice, Sam notes that you don't just move better. You also breath better, sleep better, and live better!
In her 'life before children', Sam did a degree in French and Spanish and worked in Fashion before taking a break to have her two children and is more likely to be seen with an ice cream than a raw juice in her hand!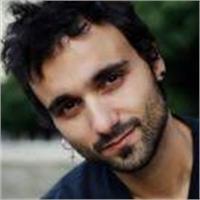 Pilates Instructor
Riccardo moved to London in 2004 to study at the London Contemporary Dance School where he obtained his BA Hons and post graduate in performance in 2008.
He then started working as a dancer touring internationally.
Alongside performing He started to practice pilates and in 2013 he completed a Mat and Reformer Stott Pilates course at the YMCA in London and more recently achieved his full certification in Mat, Reformer, Cadillac, Chair and Barrels.
He likes to tailor classes to his clients needs and can teach his classes in Italian and French!
This class introduces the Reformer, the most popular piece of Pilate's equipment. Learn how to set up the reformer and methods of adjusting the pulleys as you master the proper technique required to build core strength, stability and mind-body awareness. Like the Essential matwork class, this class provides an energising total-body workout. Participants are welcome to stay in the Essential classes until they feel confident enough to enter the Essential/Intermediate class. Class capacity is five participants.
This class is suitable for those who are moving on to reformer after attending at least 3 matwork classes or those who have done two Private Foundations.
Upcoming classes:
Sign Up

Tue

22 Jan 10:30 am - 11:30 am

with

Samantha

Brown




Sign Up

Sun

27 Jan 12:00 pm - 1:00 pm

with

Riccardo

Vitello




Sign Up

Tue

29 Jan 10:30 am - 11:30 am

with

Samantha

Brown




Sign Up

Sun

03 Feb 12:00 pm - 1:00 pm

with

Riccardo

Vitello




Sign Up

Tue

05 Feb 10:30 am - 11:30 am

with

Samantha

Brown




Sign Up

Sun

10 Feb 12:00 pm - 1:00 pm

with

Riccardo

Vitello




Sign Up

Tue

12 Feb 10:30 am - 11:30 am

with

Samantha

Brown




Sign Up

Sun

17 Feb 12:00 pm - 1:00 pm

with

Constantina

Stamou




Sign Up

Tue

19 Feb 10:30 am - 11:30 am

with

Samantha

Brown




Sun

24 Feb 12:00 pm - 1:00 pm

with

Riccardo

Vitello




Tue

26 Feb 10:30 am - 11:30 am

with

Samantha

Brown




Sun

03 Mar 12:00 pm - 1:00 pm

with

Riccardo

Vitello




Tue

05 Mar 10:30 am - 11:30 am

with

Samantha

Brown




Sun

10 Mar 12:00 pm - 1:00 pm

with

Riccardo

Vitello




Tue

12 Mar 10:30 am - 11:30 am

with

Samantha

Brown




Sun

17 Mar 12:00 pm - 1:00 pm

with

Riccardo

Vitello




Tue

19 Mar 10:30 am - 11:30 am

with

Samantha

Brown




Sun

24 Mar 12:00 pm - 1:00 pm

with

Riccardo

Vitello




Tue

26 Mar 10:30 am - 11:30 am

with

Samantha

Brown




Sun

31 Mar 12:00 pm - 1:00 pm

with

Riccardo

Vitello