Yoga Workshop "Mindfulness in Movement"
This class is taught by: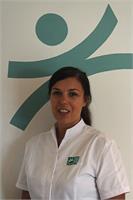 Aimee qualified from the British School of Osteopathy with a Masters Degree in Osteopathy and is a registered member of the General Osteopathic Council and the British Osteopathic Association
During her Osteopathic treatments Aimee uses a combination of structural techniques including joint articulation, functional technique, soft tissue and direct joint mobilization to help restore function, reduce tension, improve muscular aches and pain and encourage recovery. She is also a qualified in Sports Massage Therapist and has experience in treating a wide range of people from athletes to the elderly and has worked in community clinics with the homeless and patients with HIV.
Aimee is also an experienced Hatha Yoga teacher and her knowledge of yoga enriches her osteopathic treatment due to her understanding of mindfulness and exercise prescription which are as essential part of patient management.
Yoga Instructor
Donna has been practicing yoga for as long she can remember and teaching it since 2000. She calls her approach Therapeutic Yoga. It is gentle, meditative, restorative and soothing yet also precise and powerful. It is informed by her study and practice of the Feldenkrais Method, Pilates, Tai Chi, Shiatsu and Meditation and Hakomi.
Donna's aim is to inspire curiosity and awaken the natural intelligence of her student's bodies, empowering them to make meaningful choices about their own movement and potential.
This "Mindfulness in Movement" Yoga workshop combines classical yoga poses, breathing and relaxation techniques. The focus of the class will be how to counteract a sedentary desk based posture and to relieve the effects of stress on the body.
This class is suitable for any age and experience, who wish to practise gently and relax deeply.