Post-natal Pilates
This class is taught by: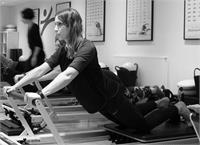 Pilates Instructor
Sam is a fully qualified Stott Pilates matwork and reformer instructor. She studied at the YMCA in London, and is also qualified in Pre and Post-natal Pilates with Body Control. Sam is currently studying for her full certification with STOTT Pilates.
Sam believes that teaching clients to really understand the point of the exercises combined with increasing their awareness of how the body works delivers the best results. She is passionate about teaching and loves it when clients feel the benefits - particularly when clients claim to find muscles they never knew they had!
Sam strongly believes in the multifaceted benefits of pilates. She believes it keeps us strong and flexible but also has hugely positive effects relaxing the mind and helping us engage with our body and how we move. With focused pilates practice, Sam notes that you don't just move better. You also breath better, sleep better, and live better!
In her 'life before children', Sam did a degree in French and Spanish and worked in Fashion before taking a break to have her two children and is more likely to be seen with an ice cream than a raw juice in her hand!
This class is suitable for women who have had their 6 week post-natal check-up and babies up to one year old are also welcome to accompany you. Focus is on improving the condition of both your abdominal and pelvic floor muscles without placing strain on the joints or back. It will in fact strengthen the back, the stomach and the muscles around the pelvic area – allowing for a quicker recovery.
No previous experience of Pilates is necessary.
Upcoming classes:
Sign Up

Tue

22 Jan 11:30 am - 12:30 pm

with

Samantha

Brown




Sign Up

Tue

29 Jan 11:30 am - 12:30 pm

with

Samantha

Brown




Sign Up

Tue

05 Feb 11:30 am - 12:30 pm

with

Samantha

Brown




Sign Up

Tue

12 Feb 11:30 am - 12:30 pm

with

Samantha

Brown




Sign Up

Tue

19 Feb 11:30 am - 12:30 pm

with

Samantha

Brown




Tue

26 Feb 11:30 am - 12:30 pm

with

Samantha

Brown




Tue

05 Mar 11:30 am - 12:30 pm

with

Samantha

Brown




Tue

12 Mar 11:30 am - 12:30 pm

with

Samantha

Brown




Tue

19 Mar 11:30 am - 12:30 pm

with

Samantha

Brown




Tue

26 Mar 11:30 am - 12:30 pm

with

Samantha

Brown




Tue

02 Apr 11:30 am - 12:30 pm

with

Samantha

Brown




Tue

09 Apr 11:30 am - 12:30 pm

with

Samantha

Brown




Tue

16 Apr 11:30 am - 12:30 pm

with

Samantha

Brown




Tue

23 Apr 11:30 am - 12:30 pm

with

Samantha

Brown




Tue

30 Apr 11:30 am - 12:30 pm

with

Samantha

Brown




Tue

07 May 11:30 am - 12:30 pm

with

Samantha

Brown




Tue

14 May 11:30 am - 12:30 pm

with

Samantha

Brown




Tue

21 May 11:30 am - 12:30 pm

with

Samantha

Brown