Zenga Flow
This class is taught by: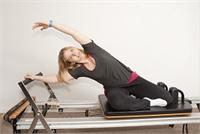 Pilates Instructor & Studio Owner
A former professional dancer and choreographer, Pippa trained at the Laban Centre in Movement and Dance from 1992 to 1996. After graduating with a BA in Dance Theatre she then performed for several years in the art of modern dance, jazz and street dancing whilst also training clients in fitness. It was fitness training that led Pippa to a deeper understanding of the body-mind connection that eventually led her to Pilates.
Pippa became certified in fitness by the YMCA and ACSM (American College of Sports Medicine) and then moved onto her formal training in Pilates becoming certified as a Stott Pilates Instructor in 2006. Pippa has been training on a one-to-one basis in both Matwork and Stott equipment based Pilates to a large and varied clientele in the Southeast London area before opening One One One Pilates in October 2010.
Zenga is a combination of Yoga,Pilates,Dance and toning exercises.It enhances core stability and resilience through mindful movement and a calm yet dynamic exercise. In this class you'll make a flowing workout activating your core muscles and challenging your balance using props.