Charlotte Albion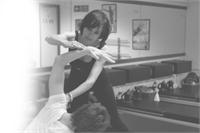 Pilates Instructor
Brought up in London, Charlotte has developed a diverse teaching career. She completed a B.ed Hons degree in Physical Education which she taught in various International Schools in Spain, Portugal, Switzerland and Italy. She also completed various Exercise to Music qualifications which she taught internationally and in London. Following her international teaching she returned to complete an MA in Theatre Arts at London University and taught Drama where she was Head of Expressive Arts at Dartford Grammar School for Boys.
With her teaching career entrenched in a physical background she developed an interest in Pilates, which she began to improve her horse riding technique. In Sept 2009 she embarked on the STOTT Pilates Mat work qualification at London Central YMCA. Inspired by the rehabilitative potential of Pilates she proceeded to qualify in Mat, Reformer, Cadillac, Chair and Barrels to an Advanced Level, as well as in Injuries and Special Populations and in October 2013 Charlotte completed her STOTT Pilates Instructor Trainer qualification in Toronto where STOTT Pilates is based.
Charlotte now enjoys the challenge of teaching STOTT Pilates student teacher courses at London Central YMCA whilst continuing to teach an array of classes and clients, including rehabilitation at 111 Pilates Studio.
Charlotte Albion instructs the following:
A Pilates class tailored specifically for the more mature exerciser. It helps improve postural problems; increases core strength and stability; helps prevent injuries; improves balance, coordination and circulation; heightens body awareness; and has a low impact on the joints. Age is just a number – there is no minimum or maximum age for this class. Class capacity is ten participants.

Attending three Essential matwork classes is a pre-requisite before booking onto the Active Ageing matwork class.




This class incorporates more complex choreography and is delivered at a faster pace. It adds a level of complexity to further challenge and builds on benefits gained from your Pilates workout; introducing a new range of movements that further build tone and strength. A class for those who have already mastered the exercises at beginners' level.

A good knowledge of Pilates is necessary to join this class.




This class is a step up from the Essential reformer level and continues to build on endurance and core strength while improving coordination and flexibility.

In this medium-intensity class you will work both the core and peripheral muscles, to ensure you are on your way to having a strong and streamlined body as you continue to strengthen and stabilize the hips, knees, and ankles.

You are required to attend at least 3 Essential reformer classes or 2 Private Foundation's prior to attending an Essential/Intermediate reformer class.




Reformer class with intermediate and advanced exercises. Intermediate reformer knowledge is essential for this class.

You must be injury free and experienced in Pilates to join this class.