Samantha Brown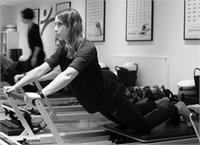 Pilates Instructor
Sam is a fully qualified Stott Pilates matwork and reformer instructor. She studied at the YMCA in London, and is also qualified in Pre and Post-natal Pilates with Body Control. Sam is currently studying for her full certification with STOTT Pilates.
Sam believes that teaching clients to really understand the point of the exercises combined with increasing their awareness of how the body works delivers the best results. She is passionate about teaching and loves it when clients feel the benefits - particularly when clients claim to find muscles they never knew they had!
Sam strongly believes in the multifaceted benefits of pilates. She believes it keeps us strong and flexible but also has hugely positive effects relaxing the mind and helping us engage with our body and how we move. With focused pilates practice, Sam notes that you don't just move better. You also breath better, sleep better, and live better!
In her 'life before children', Sam did a degree in French and Spanish and worked in Fashion before taking a break to have her two children and is more likely to be seen with an ice cream than a raw juice in her hand!
Samantha Brown instructs the following:
This class is a step up from the Essential reformer level and continues to build on endurance and core strength while improving coordination and flexibility.

In this medium-intensity class you will work both the core and peripheral muscles, to ensure you are on your way to having a strong and streamlined body as you continue to strengthen and stabilize the hips, knees, and ankles.

You are required to attend at least 3 Essential reformer classes or 2 Private Foundation's prior to attending an Essential/Intermediate reformer class.




This class focuses on improving deep core strength, endurance and control. Exercises are selected to challenge mobility and stabilization through the core and peripheral muscles while adding flexibility and suppleness to your body. Resistance props are incorporated to add variety and familiarity.

It is necessary to attend three Essential matwork classes before booking onto our Essential/Intermediate matwork class.




This class introduces the Reformer, the most popular piece of Pilate's equipment. Learn how to set up the reformer and methods of adjusting the pulleys as you master the proper technique required to build core strength, stability and mind-body awareness. Like the Essential matwork class, this class provides an energising total-body workout. Participants are welcome to stay in the Essential classes until they feel confident enough to enter the Essential/Intermediate class. Class capacity is five participants.

This class is suitable for those who are moving on to reformer after attending at least 3 matwork classes or those who have done two Private Foundations.




This class is suitable for women who have had their 6 week post-natal check-up and babies up to one year old are also welcome to accompany you. Focus is on improving the condition of both your abdominal and pelvic floor muscles without placing strain on the joints or back. It will in fact strengthen the back, the stomach and the muscles around the pelvic area – allowing for a quicker recovery.

No previous experience of Pilates is necessary.