Natalie Wright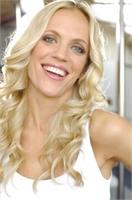 Pilates Instructor
Natalie's background is as a professional dancer, with a varied career that saw her dancing for some of the worlds biggest artists.
It was during her dance career that Natalie discovered her love for Pilates. She not only enjoyed it and felt energised after but it had huge benefits to her as a dancer, increasing core strength and flexibility as well as increasing muscle strength whilst keeping her body lean and toned.
Natalie is a fully Certified Stott Instructor Certified Pre and Post Natal Pilates Instructor with Body Control Pilates. Natalie is also a Pink Ribbon Breast Cancer Exercise Rehabilitation Specialist. She is currently studying for her full certification with STOTT Pilates.
Natalie Wright instructs the following:
A brilliant workout, when you've learnt the basics and know what you're doing!

Matwork classes at Intermediate level will provide a bigger challenge and take you through a dynamic, full-body workout that focuses on improving flexibility and core strength, with exercises that stretch and tone all muscle groups. Programming may vary from session to session to include: Stability Balls, Flex-Bands, Toning Balls, Fitness Circle®. Class capacity is ten participants.

A good knowledge of Pilates is necessary and you should be injury free.




A great starting point for beginners, people who are recovering from an injury or those wanting to fine-tune their technique. The Essential Matwork class teaches the Five Basic Principles of the STOTT PILATES method, and builds a foundation of exercises required to move on to the next level. This mat-based workout is designed to help participants develop leaner, longer-looking muscles, establish core strength and stability and heighten mind-body awareness. Props may be incorporated to add variety. Participants are welcome to stay in the Essential Matwork class until they feel confident enough to enter the Essential/Intermediate class. Class capacity is ten participants.




This class is a step up from the Essential reformer level and continues to build on endurance and core strength while improving coordination and flexibility.

In this medium-intensity class you will work both the core and peripheral muscles, to ensure you are on your way to having a strong and streamlined body as you continue to strengthen and stabilize the hips, knees, and ankles.

You are required to attend at least 3 Essential reformer classes or 2 Private Foundation's prior to attending an Essential/Intermediate reformer class.